Grow Your Private Practice Over The Next 90-Days, With These THREE Steps.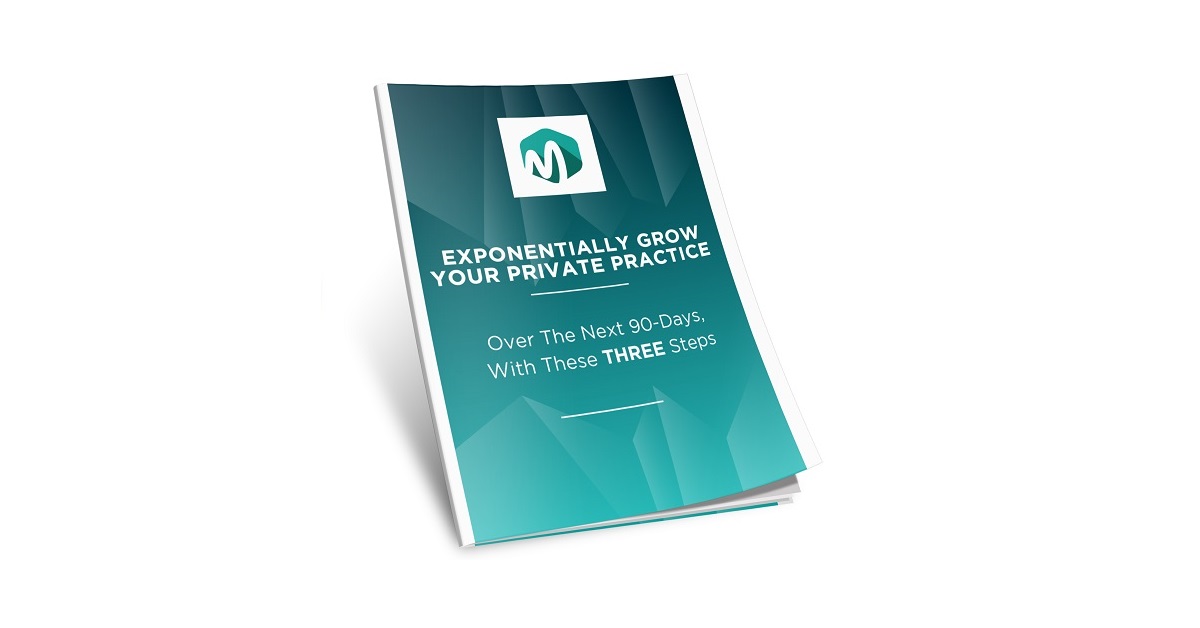 At risk of sounding like an old man preaching here, things just aren't the way they used to be.
To get new business and attract new customers / patients, you used to be able to rely on word of mouth, referrals, the occasional letter, and send out a local flyer here and there.
But things have changed.
Word of mouth, direct mail and leafleting are all grand and can be hugely effective, but in this day and age – it just isn't enough.
Fast forward to now, and …
You've likely got more competition than you've ever had.
You feel like you have to scrap for business.
You experience fluctuating busy and quiet periods in your business.
With the inconsistent quiet and busy periods in your business, it can sometimes feel like you're riding a rollercoaster.
So what do you do about it?
You go to market  …
Now, I understand that 'marketing' is a bit of a dirty word in the business of Private Practice.
And that's perhaps why most Private Practices suffer from, what I like to call 'marketingitis'.
Marketingitis – whilst an awful pun, is also my little way of describing the worrying streak in small business owners of only promoting their business when they HAVE to.
I.e. When they're quiet – OR – don't have enough money coming through the door.
So what happens?…
You get something out in the local paper / newsletter, post on Facebook, and push out a load of emails to your previous patients / clients.
A few bookings are made.
You get busy again.
You're treatment schedule fills up for the next week or so …
Then, unwisely, you stop marketing and advertising again, only to find yourself in the same 'quiet patch' a few weeks down the line.
Rinse and repeat. It happens again and again.
Sound familiar?
If so, then today, I invite you to step off the not so merry-go-round!
See, there are some VERY basic marketing techniques and systems you could implement in your business today to combat against this.
Now, I stress, no-one's expecting you to become a 'marketing whizz' overnight.
Because in truth, these days, marketing has become too specialised and too complex, and it can be difficult to decide where to put your focus, and what to 'test' next.
But (and it's a big but)…
Today I wanted to introduce you to a simple marketing concept that I think you'll love.
It's called 'Rhythmic Acquisition'.
What does it mean?
Well, in essence, Rhythmic Acquisition is a term used to describe a regular flow of leads and prospects.
Think of it as the plodding away of new enquiries arriving in your inbox, over the phone, or in your practice – every day / week / month.
It's a simple concept, and granted, it sounds so desirable that you probably think it's unattainable in your business.
But I can tell you now, that's rubbish. This works.
And the best thing about it? …
Much of it can be automated – so that way, things don't stop when your practice gets busy.
It ticks along constantly so you never suffer from quiet patches in your practice again!
With Rhythmic Acquisition in your business, gone are the days of sporadic, 'last ditch' advertising and promotional blasts to try and encourage new business. Gone are the days of there being no structure in your attempts of promoting your business.
Because even with the best intentions, things can slip and before you know it, you haven't promoted your practice for a month, or maybe two…. even three.
Now, it would be rude of me to 'dangle the carrot' of Rhythmic Acquisition without giving you insight into how you can achieve this in your business.
So allow me to run you through a quick 'three point overview'.
ATTRACT
AUTOMATE & CONVERT
LEVERAGE
 STEP 1 – ATTRACT
So what do we mean by attract?
Well, the key bit here is that first, you need to be able to identify a specific target audience, and then hang out where they hang out.
For example, if you're a sports injury clinic, or sports massage therapist – perhaps you'd want to target your weekend warrior type. So where do Sunday League Footballers 'hang out'?
Can you access them via Facebook? If so, what would be your message to them? You need to position yourself as the 'go to' practice in the area, and generate enough interest in your services (perhaps through and offer) so that this group will make contact with your practice.
Once you've nailed this with one target audience, do the same for the next, and then so on …
STEP 2 – AUTOMATE & CONVERT
Great. So now you've got a group of targeted prospects enquiring about your services. But note, that even at this stage – they're only relatively interested in your services, and nothing more.
So how do we bring them across then line, from a prospect to a patient?
Through a follow up system that educates them on your services, eulogises the BENEFITS of the said services, and does so until the prospects is in a position to come to their own conclusion that your practice / clinic / treatment method is the best option to solve their 'pain'.
Do this well, and once you have the winning formula – automate this process (using a CRM system) so you don't have to do anything when the interest comes in!
See how this could add huge value to your business?
STEP 3 – LEVERAGE
Now, this bit is really important – and it's a step that oh-so-many small business owners forget to make.
You've done all the hard work by creating prospects, and turning those prospects into patients – so don't you want to make the most of the situation you've created?
By this, I don't mean start milking your patients dry. What I'm talking about is LEVERAGING. What other services can you offer your patients? Can you create some sort of 'aftercare' scheme?
Trust me, as a Sunday league footballer with a ropey knee, I can assure you that if one of the many physios / sports therapists I've seen over years had offered me an aftercare package post rehab, I would've taken it.
But it's not about maximising your return on investment. It's also about leveraging the situation – and maximising your return on 'interest'.
Remember Step 1?
You can help yourself perpetually increase the interest in your services at Step 1 by asking your converted prospects (patients) to spread the word.
Have you got a referral system in place? Can you equip your patients with an offer or incentive to pass on to their friends, teammates, or colleagues? Food for thought …
What next?
So there you have it. Three Steps that can make a huge different to your Private Practice.
Attract.
Automate & Convert.
Leverage.
And as I alluded to before.
I'm fully aware that most private practice owners don't have the time to treat their patients, run their company, grow their business, and learn savvy new marketing techniques at the same time.
And maybe this is the case for you?
If so, then read on …
See, today I want to put a huge opportunity on the table for you and your business.
In short… I'm looking for six clients that my business, Marketing For Practices, can work very closely with over the next three months.
If you're one of them, then we'll get 'down and dirty' and start building a marketing system in your business that generates new leads, appointments, repeat bookings, referrals, and 'raving fans'.
We'll put a marketing strategy in place that'll make a huge difference in your business – and make those 'quiet patches', in your business a thing of the past.
Essentially, my team and I will 'do the do' so you don't have to.
Interested?
 Well before I can run you through all the ins and outs, be warned …
 Our services are strictly 'Area Exclusive', meaning:
If we are working with a Practice or Clinic in your area, within a 10 mile radius (5 miles in London), we are unable to offer you our services.
Spaces are limited – to ensure we don't 'oversubscribe' our services, there are just SIX spaces available your region.
You can't just 'claim' a place – you have to apply. If your application is successful, then good news… this means that we think we can add HUGE value to your business.
Please note: We're dealing with applications on a 'first come, first served' basis. The first business to apply and meet the criteria will secure our services.
If you want to work with us, make sure you get your application in quick sharp as once a successful application has been accepted, this package will no longer be available on your territory (so get in quick!).
To find out more about our services, all you have to do is head over to: